CBORD card users have access to automated 24/7 on-campus convenience store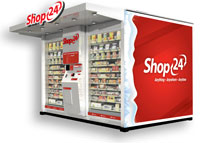 Campus card provider CBORD has integrated its Odyssey PCS campus card system with Shop24's self-contained, automated, robotic and refrigerated convenience stores. With the swipe of an ID, students have 24/7 access to items such as snacks, cleaning supplies and even medicine.
Designed to enable around the clock purchasing on campus, these convenience stores offer students and staff quick access to a variety of items ranging in weight from less than an ounce to eight pounds.
"We recently installed a Shop24 robotic convenience store on our campus. Students love the convenience of using their campus ID dining card for late-night snacks or lunch on the run," said Diane Williams, SUNY Oneonta Auxiliary Services executive director. "Its popularity is soaring across campus."
Since the Shop24 terminals are automated, no extra staffing resources are needed. And, the standalone operations can drive revenue streams.
Shop24 is a member of the CBORD Xchange Program, a network of technology partners.