Cash, check, or iPod? Credit card payments via mp3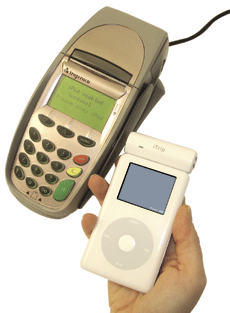 File under "cool" the following development from point-of-sale leader Ingenico. The company has demonstrated the initiation and completion of credit card payments using an Apple iPod mp3 player. The iPod, equipped with an FM transmitter, used this FM capability to send the payment data to the POS reader.
Beyond payments, the possibilities loom large. Imagine downloading an mp3 file that contained an encrypted or secured record of the airline ticket you purchased online. Transmit the secured data at the airport and breeze through to your flight.
The FM transmitter was designed to enable playback of mp3s over car stereos. It is called the iTrip from Griffin. The POS terminal, Ingenico's i5100 model, was equipped with Atlantic Radio System's FM data extraction module to complete the communication.