Many organizations are moving over to a Microsoft Windows 7 Operating System. This transition may directly affect ID card printing system. Before an organization makes the switch they need to check to make sure the printer will work with Windows 7.
ColorID wants to make sure its' clients check their card printer before making the switch to Windows 7 so it can offer the proper support.
If a printer is not on this list, please e-mail ColorID your printer model and we can check the compatibility.
If you are changing your operating system to Windows 7, please keep this in mind:
ColorID offers many ID Printers that will work with Windows 7.
ColorID is currently offering a Trade-In Printer Credit Program that offers up to $500.00 for older card printers.
Printer drivers are continually being updated to allow for use with newer operating systems, but as of February 2011, the following chart shows which ID Printers are supported by what operating systems.
Windows OS 7 Compatibility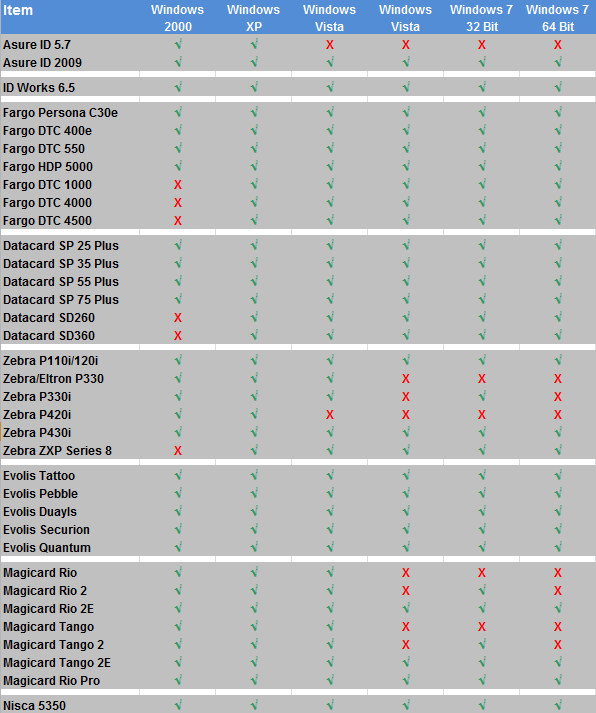 About ColorID
ColorID is a leading identification solutions provider to education, government, military, healthcare and other businesses. ColorID product offerings include: ID printers, software and supplies, advanced technology smart contact and contactless cards, biometric iris and finger print readers, pre-printed and blank plastic cards, and ID badge accessories (such as lanyards and card holders). ColorID offers installation, training, re-carding, extended warranties and support services on all the products we offer. ColorID's manufacturing partners include: HID, Fargo, IRIS ID, Datacard, Gemalto, Zebra, NiSCA, Evolis, Magicard, Integrated Biometrics, Oberthur, Privaris and many others. Contact ColorID at 704-987-2238 or toll free in Canada and the US at 888-682-6567. Visit ColorID on the web at: http://www.colorid.com/ or email ColorID at support@colorid.com.