Campus cards at an important crossroads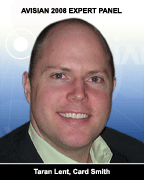 Taran Lent,
Vice President, Product Development,
CardSmith
I believe this year's developments will play a major role in determining the future direction and general health of the campus card industry.
It has reached a maturation point of sorts, with most major colleges and universities having now implemented a campus card program in one form or another. That means growth in new programs has slowed substantially. This has spawned a roll-up of the card system vendors in recent years, resulting in a convergence of the feature sets of the major systems in the marketplace.
Switching from one card system to another isn't as difficult now as core functionality between competing systems is effectively the same. To some extent, these industry trends are a natural response to a maturing marketplace. Still, the impacts on system users have been profound, and candidly, not advantageous to card-issuing institutions. They include:
Mergers of former competitors to realize operating cost efficiencies.
Reliance on price increases for revenue growth, without commensurate product innovation.
In multi-business unit companies, under-investment in campus card product development relative to faster growing business lines.
Less frequent product upgrades and enhancement.
Diversification into product extensions not core to the campus card business.
Cost cutting in client service and support.
Marketplace churn, with dissatisfied customers making lateral moves from one service provider to another.
These are the symptoms of a slowing industry with diminished growth potential. However, where some see stagnation, we see an industry with significant opportunity.
We see a marketplace where many institutions have not yet implemented full campus-wide card programs. Many small to medium sized colleges and a few major institutions actually have very limited or non-existent "one-card" programs. Most community colleges do not participate in the industry at all, and many smaller colleges are under-served. Too many of today's card programs have limited acceptance on-campus, little or no off-campus merchant participation, no web-based account management capabilities and limited support services for cardholders or accepting locations. We believe there's a lot of ground still to cover.
Why have so many schools not yet implemented a robust card program? The answer is that there are major financial and operational obstacles many institutions are unwilling or unable to address. Capital costs, staffing requirements, and the expertise required to deliver a quality card program are financially and managerially prohibitive for many institutions, especially those with budget and staff constraints. Even schools with well-performing programs struggle with the trend of increasing costs, service complexity and under realized results. The Total Cost of Ownership of a campus card system is high and still rising.
To continue to grow and flourish, we believe the industry needs additional focus on reducing barriers to entry and operational success. New service delivery models are needed that drastically reduce up-front capital expenditures, simplify operations, and reduce ongoing annual support and staffing needs. Incremental product bells and whistles add utility at the edges but are not the answer to the larger problem. The industry needs to re-invent itself to make it easier and less expensive for schools to deliver a superior campus card service to students and parents.
Given this, my predictions for 2008 and beyond are:
Web-based card systems and outsourcing of campus card support services will increasingly become the favored alternative for colleges wanting to provide a complete solution quickly, affordably and with minimal staff resource impact.
Collaboration, service sharing and reciprocal card acceptance among neighboring schools and consortia will increase.
Free, community-based, open-source campus card software will become an option for schools that want to manage their own program but don't want to buy expensive software. For more on one solution, see the whiteboard courseware project at whiteboard.sourceforge.net.
A universal transaction message format standard, similar to the bank card industry, will be developed to make it easier for different systems to exchange transactions, facilitate multi-program interoperability, and simplify third party application integration.
Commercially available third party payment terminals will become more prevalent. Campus card providers will ultimately exit the business of manufacturing proprietary and costly hardware.
Magstripe cards will continue to be the primary access device for financial transactions. They are low cost, durable, easy to use, and easy to replace. Contactless key fobs and mobile phone payment applications are cool, but are not practical ID card alternatives for most schools.
Proximity and contactless technologies for security and door access will continue to grow and become the defacto standard.
Programs will continue to adopt the ISO 7811 and 7812 standards for card numbering and encoding to ensure compatibility with a broad range of systems, vendors and applications versus proprietary models that are limiting.
Campus card leaders will establish benchmarking standards that objectively evaluate the success of a program relative to overall industry trends. The industry needs to provide better guidance to new and developing programs to measure "Program Success."
Colleges will increasingly contract directly with specialized security companies for campus safety versus using general multi-purpose access systems. Heightened demand for professional security systems and services will drive this trend.
POS and back-office reporting/management systems will migrate to web-based solutions, eliminating the need for local servers and software and making enterprise-wide data available anywhere, anytime.
These new industry dynamics present both pitfalls and opportunities, requiring creative innovation and leadership from both service providers and customers. Next year will indeed be another fun, exciting and challenging one for campus cards.
Please send questions and comments about this article to [email protected]
---
About the AVISIAN Publishing Expert Panel
At the close of each year, AVISIAN Publishing's editorial team selects a group of key leaders from various sectors of the ID technology market to serve as Expert Panelists. Each individual is asked to share their unique insight into what lies ahead. During the month of December, these panelist's predictions are published daily at the appropriate title within the AVISIAN suite of ID technology publications: SecureIDNews.com, ContactlessNews.com, CR80News.com, RFIDNews.org, FIPS201.com, NFCNews.com, ThirdFactor.com, and DigitalIDNews.com.