Campus cards are becoming more then just ID cards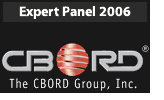 A panel of ID industry experts provided predictions for 2006. One of these glimpses into the future will appear here each day during December.
By Bruce Lane, Executive VP and COO, The CBORD Group, Inc.
We are graduating! I think that seems like the growing theme enveloping the campus card world. No more are we just a head counting tool or a glorified calculator for figuring out how much more a student has to spend. Campus card systems are taking their rightful place as true mission-critical, enterprise systems, rather than part of some other, "more important" campus system.
The next few years will see many of the following trends become fact:
Our systems are asked to do more, be more flexible, and drive more revenue for campus auxiliaries. We are asked to provide solutions to long running town/gown controversies that have the effect of increasing campus revenues while still maintaining the "in loco parentis" coverage of old.
Our campuses are no longer shielded from crime and violence and we are called upon to provide integrated, state-of-the-art access control and integrated electronic surveillance and security. We need to provide computer tools not only to help match roommates and manage the growing stock of more sophisticated housing facilities, but our systems must, in an integrated fashion, track student conduct and provide the feedback loop of Clery Act reporting so prospective students and parents can view crime-on-campus statistics. This takes the form of judicial tracking software, biometrics, closed circuit TV and Digital Video Recorders (DVR).
The business of running a campus has never been more complex. An increasing number of auxiliaries and student life managers are joining financial managers … serving first in private industry before coming to academia. They seek the same sorts of system tools to make it all happen in ways that stand up to a rigorous audit and that work hand-in-glove with other university IT systems.
At the same time, the marketing imperatives of the modern college world dictate that, to attract and retain the best students, a school must offer campus card capabilities that make it easy to attract deposits and spend more money on campus. Loyalty programs and discount services to students, attached to that singular piece of college identity (the ID card), are not only the way to increase on-campus spending, but increasingly are seen as a real key to keeping a relationship with the student as he or she transitions into that lucrative alumnus status.
What that portends for campus card system providers is a boatload of challenges for the future. There is almost unlimited opportunity that comes from the outpouring of great ideas and needs from this new wave of university managers. The challenge for us in the campus card business is to remember who brought us to the dance and to keep up the steady stream of developments and enhancements aimed at making university management ever more efficient and successful.
---
Visit CBORD on the web at www.cbord.com.