Campus card veteran Mark Doi to direct education market for HID Identity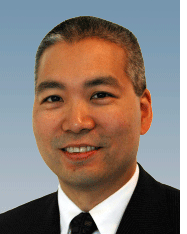 Campus card and security industry veteran Mark Doi will lead HID Global's education market efforts as the new director of business development. Mark will work with campus administrators migrating to multi-function iCLASS cards via the new HID Identity business unit. Mark is a longtime friend of CR80News and the campus card industry, having served the market in prior roles with Ingersoll Rand Security Technologies and Onity.
HID Global Hires Mark Doi to Bolster HID IdentityTM Efforts
Hire signals company's commitment to education market
Irvine, CA., May 22, 2007 – HID Global, the trusted leader in secure identity, today announced that Mark Doi has been named director, business development, education market, supporting the company's recently launched HID Identity expertise group, reporting to Chris Sincock, vice president of HID Identity. In this newly created position, Mr. Doi will be responsible for promoting the benefits of HID technology in the education market, especially at the university level. By working with HID Global customers across all distribution channels, Mr. Doi will further the effective usage of HID technology to solve specific campus-related requirements.
Introduced in March at ISC West, HID Identity benefits end-users by providing solutions and expertise that streamline and simplify the issuance of multi-application credentials. The higher education market is the first market to truly embrace multi-application cards, using "student IDs" for everything from dormitory access and meal plans to library checkout and laundry operation. HID Global's iCLASS® technology is gaining rapid acceptance as a secure, extensible technology platform for university multi-application credentials.
"We are quite pleased to create this new position and fill it with such a respected veteran in the university marketplace", said Dennis Caulley, HID Global's vice president of HID Identity. "Mark's direct experience with university end-users and his channel management experience with the large "one card" OEMs is a perfect combination to help universities reap the greatest benefit from HID technology."
"After working around the limitations of magnetic stripe cards for years, universities are now seeing the value of secure multi-application credentials," said Mark Doi, director, Business Development, Education Market, HID Global. "I'm excited to help our education market customers solve their problems using HID technology."
Prior to joining HID Global, Mr. Doi was with Ingersoll Rand Security Technologies, where he was director, National Education Accounts. With over a decade servicing the university marketplace, Mark has also held sales and business development roles of increasing responsibility in the education market at Onity.
About HID Global
HID Global is the trusted leader in secure identity, serving customers worldwide with proximity and contactless smart card technologies; central station managed access controllers; secure and custom card solutions; photo ID and ID card application control software; high definition printer/encoders and secure card issuance solutions. Headquartered in Irvine, California, HID Global operates international offices that support more than 100 countries and is an ASSA ABLOY Group company.