Blood vessels in human hand and contactless card combine to create secure biometric IDs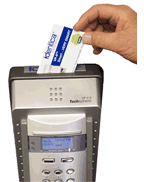 Forget fingerprints. A Toronto, Ontario company wants the whole hand involved. And it's not talking palm prints. It wants to identify the blood vessels in your hand.
Identica Corp. has linked its Universal Controller with a hand vascular scanner manufactured by a Korean company. The result is a biometric access control mechanism solution that it claims is accurate, fast, and non-intrusive for users.
Terry Wheeler, Identica president, calls this a "whole new paradigm of biometrics on its own. Ours is completely unique."
Mr. Wheeler started Identica in 2003. "My background goes back to biometrics," he said. "At Identica, we were first involved with fingerprint-based solutions but then I started looking at what was going to be next, and I found this technology from Seoul, Korea. We got the rights for Canada, and at that point we realized we needed a bigger marketplace. Last spring, we acquired American Biometric and Security in Naples, Florida."
To expand its North American market, Identica recently signed Johnson Controls Inc. (JCI), Sima Valley, Calif., to sell and integrate the Techsphere Hand Vascular Pattern Recognition (VPR) biometric solutions to its clients in the US and Canada (Identica also owns the rights for the vascular scanner in North America and Mexico).
Live applications and implementations underway …
"Johnson Controls has a large established and growing customer base that relies on the company for their expert advice and integration of products to match their security requirements", said Mr. Wheeler. "A typical JCI client has sophisticated access control security challenges that require the undeniable user verification and the many other benefits that the Hand VPR biometric solutions provide."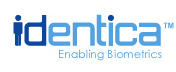 Identica and its use of the Techsphere vascular hand reader is starting to get noticed. The company was awarded an iCLASS Innovation 2005 Award several months ago by HID, a world-leading manufacturer of access control readers and cards. The award was presented for Identica's integration of HID iCLASS smart card modules with its Universal Controller and the Techsphere Hand Vascular Pattern biometric scanner.
SunFirst Bank, St. George, Utah, just recently integrated the Techsphere into its access control system for its Datacenter. "It is being used all over the world. You have installs in gaming, casinos, banking, transportation, and government."
Mr. Wheeler explained that Techsphere scans a portion of the hand, going beneath the surface of the skin, "so we're not concerned with contaminants like fingerprints would be. It scans for the main veins and blood vessels all around. It does a one to one comparison and it's very accurate. You can use the product with a standard pin or HID iCLASS smart card."
He added: "With a smart card (such as with HID's iCLASS) you're storing the encrypted template right on the card. The user keeps the card with him. That's one of big issues for any biometric is where template is stored. I present my card and hand and it sends the message to the access control system and opens the door," he added.
Only a 208-byte template is required. "You don't have to worry about where it is. You enroll them once. If you have a thousand doors around the world, all you need is your card and your hand to enter."
Future plans include additional card types and ID technologies …
"While the product we currently have is with HID, we will also have Mifare and Desfire capabilities. The whole development project is in the works for the Universal Controller."
Identica's scanning process will also work with 2D barcodes. "I can store my template in that barcode and print it on anything, on a boarding pass, on the back of any card," said Mr. Wheeler. "It really depends on what the customer wants. I personally think HID iCLASS is the way to go, but we want to make the integration easy."
He said the initial choice of HID was easy. "HID is the biggest in the market. They're a great partner to work with and they always support their products."
---
Additional resources:
Visit Identica on the web at www.identicacorp.com.