Blackboard hopes its new Universal Edition™ will have universal appeal to both existing and potential clients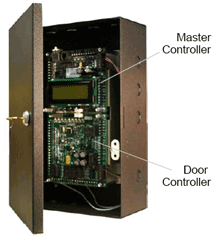 If you were among the 1400 individuals in attendance at the recent Blackboard Users Conference, you are already aware of the Blackboard Transaction System – Universal Edition™ – the new edition of the Blackboard Transaction System.
The Universal Edition is considered a new edition rather than a new release. According to Ron Dinwiddie, Sr. Director of Product Development for Blackboard, "it is the third edition of the Blackboard Transaction System (following the Unix and Windows-based systems)."
"But," he stresses, "this is not a replacement to our previous editions … but more of a complement." Campuses running existing Blackboard systems will have the option to include components of this edition alongside the deployed infrastructure, explains Mr. Dinwiddie. And, he adds, support and development for both the Unix-based and the Windows-based systems will continue.
A bit of historical reference
Blackboard entered the campus card business via the acquisition of two companies in December of 2000. One provided a solution that ran on the Unix platform and the other with a solution running on Windows. In the years following the acquisitions, Blackboard has continued to support and build upon both platforms with frequent software and hardware releases. A loyal customer base remains for each of the legacy systems.
What is new in Blackboard Transaction System – Universal Edition?
"There are four major areas in which this new edition improves upon prior editions," says Mr. Dinwiddie. "Multi-platform Oracle support, system utilities scheduling, door access and enhanced commerce/access transaction processing."
Multi-platform Oracle support
Many Blackboard clients maintain their transaction system database using Oracle database software. In the past, the Oracle database was supported only on the Microsoft Windows Server operating system. The Universal Edition includes support for four operating systems – Red Hat Linux, Sun Solaris™, HP-UX, and Microsoft Windows Server. This allows campuses to select the Operating System that best matches their existing campus environment and in-house Information Technology skill sets.
System utilities scheduling and automation
As with any complex, enterprise-level system, there are certain functions – maintenance, imports/exports, and report generation – that must be conducted on a routine schedule. "The Universal Edition eases these tasks by enabling jobs to be scheduled for automatic initiation," says Mr. Dinwiddie. "We call it 'jobs for utilities.' Think of it as a scheduling component to enable administrative functions to occur at night."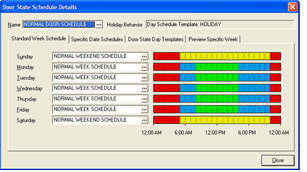 Door access
Blackboard has offered door access functionality in its Unix Edition from the beginning. Windows Edition clients opting for door access, however, purchased a separate system from other companies (e.g. a local security system integrator). Says Mr. Dinwiddie, "the Universal Edition improves upon the current offering and provides a new Blackboard-designed door access module for new and existing clients."
"A major improvement is the customer interface," he adds. "The door access functionality in the Unix Edition is menu-driven but the new edition is GUI-driven (graphical user interface). Therefore it provides easier capabilities to set up permission schedules and door schedules – and better viewing of setups that are color coded for days and schedules."

The hardware for the Universal Edition door access is the same as the hardware for the Unix-based system. The master controller, the SA3000, is fully upgradeable via a firmware replacement and the older SA2000 will soon be upgrade-ready as well. In addition, proximity card capability is supported. Proximity cards and readers from industry leader HID can be used in cases where the added convenience of proximity is desired.
In the Unix-based system, a dedicated controller was required for each door to be managed. The Universal Edition employs the industry concept of the Field Panel, enabling a single Master Controller to handle up to eight unique doors.
"In general, there are three components to setting up the access control logic for the campus – door setup, user setup, and access privilege setup," says Mr. Dinwiddie.
In the Door State setup, you are assigning a timeline to the door, specifying the hours that a specific door or group of doors is locked, unlocked, controlled, or controlled with PIN. In the Customer or Cardholder Permissions setup, the daily schedule indicating when an individual or group of individuals has access to a door type is defined. Next, the Door State and Customer Permissions setups are combined to create a detailed Access Plan for the campus.
"A color-coded timeline is presented for each setup to make it extremely easy to visualize and understand," adds Mr. Dinwiddie. "Doors and users can be grouped to make it easy to assign a single profile to many (doors or users) in bulk."
Enhanced Commerce and Access Transaction Processing
Improvements and modifications in the platform software have increased transaction processing speed and overall stability. As the volume of transactions occurring at any one time on a campus grows, demands on the system continue to increase. The scalable transaction processing architecture of the Universal Edition can process thousands of transactions every minute.
Why might a Unix Edition client want to add the new Universal Edition to the campus mix?
For the Unix-based system, the network processor (NP) handles all transactions. It is in essence the hub of the network. There are two drawbacks to this type of architecture: the NP is an expensive piece of equipment and there are inherent risks and limitations in any system that relies on a single point for operations. A distributed architecture, in which functions of the NP (e.g. transaction management) are shared among a 'distributed' group of machines, offers significant benefits. Redundancy, load balancing, and increased speed are all likely outcomes of a distributed system. Additionally, cost efficiencies can be found as lower cost servers can handle the work of the higher priced NP.
A wholesale replacement of the Unix-based system is not required for Unix clients that want to take immediate advantage of the door access functionality. Says Mr. Dinwiddie, "one possibility is to run door access on Universal Edition and commerce on the Unix-based system … and then use the Blackboard Building Blocks Manager to integrate cardholder information across the editions. Then you can migrate over time (as you) get comfortable with the new technologies."

What if I am a current Windows Edition user … Why might I consider the –new Universal Edition?
"For clients that use the Windows-based system," said Mr. Dinwiddie, "the migration is virtually seamless." The primary initial benefit for this group, it seems, would be the integration of Blackboard's door access solution as well as the addition of Jobs for Utilities. Campuses without existing door access would have an obvious option in that they are already familiar with the platform and can trust that the integration of the application is there.
So will the Universal Edition eventually replace the existing Blackboard Transaction Systems across the country?
According to Tom Bell, VP Industry Relations, Blackboard, "the first thing is that I want everyone to remember that we are not 'end of life-ing' our other editions. The Blackboard Transaction System – Universal Edition will run alongside the Unix-based system on many campuses bringing new functionality, power, and flexibility to the site. As time goes on new applications and more and more of the existing campus functions can migrate to the Universal Edition but it will certainly be a gradual process."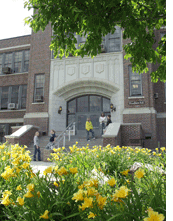 An early experience with the Blackboard Transaction System – Universal Edition: Black Hills State University
The Blackboard Transaction System – Universal Edition was beta tested at Black Hills State University and South Dakota State University. Black Hills has been a user of the Windows Edition for years. According to Jerry Swarts, Director of Card Services for the University, "there was really no noticeable difference in operations (following the installation). The migration was seamless for us."
When asked why they were interested in this new edition, Mr. Swarts explained, "we had to support two separate systems (transaction and access control) and we only had export / import between them. We wanted smooth flow of data between the two systems."
The campus replaced an existing access control system from another vendor when they implemented the sUniversal Edition. "We were able to use the existing electric strikes, magnets, and wiring," says Mr. Swarts. "We changed out our swipe reader and door controller." They currently have 20 buildings and 59 doors online with the system.
"I have used other access systems," concludes Mr. Swarts, "and I can say that this one really fits the university market. Black Hills has traditionally used door access as a marketing tool for parents and students. We lock down dorms 24-hours per day. Now using it to extend hours (for lab access, etc.) and provide even better controls."
---
To learn more:
Blackboard will be hosting a series of Webinar demonstrations on the features and functionality of the Blackboard Transaction System – Universal Edition throughout June. These online sessions are free and open to the public. For more information on dates and times, please visit www.blackboard.com.