Beloit College reminds students, faculty and 'you' of the changing times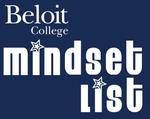 Every year since 1998 Beloit College has released the Beloit College Mindset List. Created by Beloit's own Keefer Professor of the Humanities Tom McBride and former Public Affairs Director Ron Nief, it was created as a reminder to faculty of dated references, and quickly became a catalog of the rapidly changing worldview of each new generation. Most students entering college for the first time this fall – the Class of 2014 – were born in 1992.
The Beloit College Mindset List for the Class of 2014
Few in the class know how to write in cursive.

E-mail is just too slow, and they seldom if ever use snail mail.

"Caramel macchiato" and "venti half-caf vanilla latte" have always been street corner lingo.

Had it remained operational, the villainous computer HAL could be their college classmate this fall, but they have a better chance of running into Miley Cyrus's folks on Parents' Weekend.

A quarter of the class has at least one immigrant parent, and the immigration debate is not a big priority…unless it involves "real" aliens from another planet.

Clint Eastwood is better known as a sensitive director than as Dirty Harry.

DNA fingerprinting and maps of the human genome have always existed.

Leno and Letterman have always been trading insults on opposing networks.

Computers have never lacked a CD-ROM disk drive.

The first computer they probably touched was an Apple II; it is now in a museum.

Czechoslovakia has never existed.

Adhesive strips have always been available in varying skin tones.

Russians and Americans have always been living together in space.

Children have always been trying to divorce their parents.

Beethoven has always been a dog.

Wal-Mart has never sold handguns over the counter in the lower 48.

Having hundreds of cable channels but nothing to watch has always been routine.

They first met Michelangelo when he was just a computer virus.

They have never worried about a Russian missile strike on the U.S.

The Post Office has always been going broke.

The artist formerly known as Snoop Doggy Dogg has always been rapping.

One way or another, "It's the economy, stupid" and always has been.
To read this list in its entirety, along with past lists, head on over to Beloit College's Website.