BCC gives students MasterCard refund cards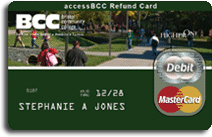 Bristol Community College, Fall River, Mass., has partnered with HigherOne, provider of financial solutions for education institutions, to electronically distribute refunds and other disbursements to students, according to The Herald News.
In the mail, students will receive a MasterCard branded "accessBCC" refund card that can be used anywhere MasterCard is accepted.
Students can check their balances online in real-time to make sure they have funds to cover their purchases, or transfer funds to a personal banking account. ATMs will also be made available on campus allowing withdrawals free of charge.
To read more click here.