Assa Abloy: Exploring access control in university attendance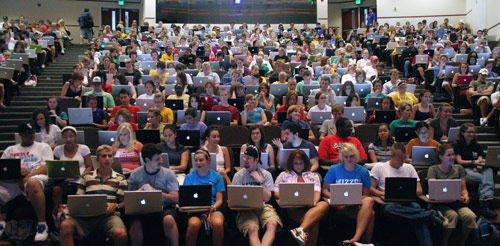 Universities are feeling pressure to monitor and log student attendance. The pressure, however, is mounting not only from university administrators but the students themselves. As the access control debate intensifies so to do students' concerns about privacy and data protection.
Part and parcel to the privacy debate is the argument that the purpose of higher education is to incite self-learning and a freedom to explore intellectual frontiers — without an official control. This is the perhaps the crux of the access control debate that professors, students and administrators will have to grapple with sooner than later.
One thing remains certain, the use of access control to log attendance is a virtual certainty. However, with a wide and varying suite of technology options at universities' disposal, how should institutions proceed?
To help facilitate this debate, Assa Abloy has released a paper that lays out reasons for and challenges associated with instituting access control in a university atmosphere.
The first and most notable reason for access control in a University setting is the shear financial impact that student attendance bears. A vast number of students — domestic as well as international — are offered financial aid on the basis and merit that they put forth the proper academic effort.
It would only seem fair that if a student did not meet these fundamental requirements then their financial assistance be allocated to another student. Attendance is a major component to any student's academic success and an access control system could provide administrators, professors and parents alike with valuable insight into students' academic tendencies.
Financial reasoning aside, universities could also employ access control to better monitor the safety and well being of the student population. A monitoring system could flag a student that has missed several lectures in a row, and trigger an inquiry into the health or whereabouts of a student.
There are a number of moving parts to monitoring an entire student body, as each student will have a unique workload and academic schedule. A comprehensive solution would have to characterize the various levels of study — undergraduate, postgraduate, study abroad programs, etc.
Assa Abloy points out that the most prevalent challenge facing access control in universities will likely be the backlash from students and professors. Attendance monitoring will surely be a tough sell for students who seek the freedom so often associated with the college experience, and for professors the system may be viewed as an 'infantilizing' check that could stifle the growth that so many students undergo while in college.
Download the full paper here.