All-in-one solutions for managing print jobs take 2006 by storm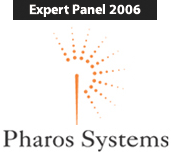 A panel of ID industry experts provided predictions for 2006. One of these glimpses into the future will appear here each day during December.
By Kevin Pickhardt , CEO, Pharos Systems International, Inc.
ID card-integrated MFPs (multi-function printers) are taking campuses and corporate offices by storm. Combining print and copy technology with in-demand print cost management solutions and trusted card systems, these integrated MFPs not only provide accurate and reliable user-level job accounting, but security and convenience as well.
Integrated MFPs represent the future of cooperation and co-development among customers, suppliers, and vendors and signify a streamlined, all-in-one experience for users.
Eliminating the IT staff headaches that stem from incompatible solutions offered by multiple vendors, integrated MFPs provide a unified offering of services to cater to the varied printing and copying needs of higher education users. Pharos Uniprint and Off-the-Glass software, built directly inside integrated MFPs, make this wide range of services available from a single, touch-panel user interface.
The new families of integrated MFPs from Lexmark, HP, and Canon provide user-level pay-for-print and departmental chargeback, job security via the Secure Release feature, and the ability for users to print to the device most convenient for them, no matter where they are located, via the PrintHere feature. The MFPs integrate student, faculty, or employee ID cards with the card systems available from Blackboard, CBORD/Diebold, and General Meters.
What makes the integrated MFP a needed solution for 2006?
A single user interface (UI) for printing, copying, scanning, faxing, emailing, secure job release, and job accounting activities makes the integrated MFP easy to use and saves users time.
Integrated print release capability and ID card devices built into the MFP saves the IT staff time, money, and effort in setup, configuration, and maintenance.
Integrated functionality of separate devices minimizes floor space.
Improves asset utilization and eliminates the need to purchase separate devices when copy volumes are shrinking and print volumes are growing.
---
Visit Pharos on the web at www.pharos.com.