A merger off-campus: SA Cash and Quentrix become one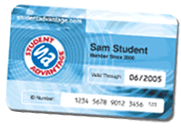 Student Advantage, known for its campus student discount cards, has recently completed a merger of its SA Cash unit with Quentrix, opening more doors for its off-campus SA Cash card program by strengthening its access to universities serviced by major campus card player, Diebold.
With the recent purchase of Quentrix, Student Advantage has acquired the technology that allows colleges using Diebold's CS Gold to offer their campus cards to off-campus merchants more efficiently and securely.
"The key theme right now in 2004-2005 is the move off campus by colleges and universities throughout the country," said Quentrix' COO Rory Hersch. "The Quentrix/Student Advantage relationship clearly helps enable this process."
"More and more, these schools are becoming the best examples in the world of a cashless society," said Ray Sozzi, Student Advantage's CEO. "Students and staff can use their cards for every transaction they make–laundry, lunch in cafeteria, or going off-campus. The off-campus piece is the last piece to further enhance the value of their campus card and to cover all the needs of their students."
Student Advantage, under its SA Cash brand, expanded its student payment accounts off-campus to include local and national merchants. In February 2003, the company sold its SA Cash technology to Blackboard, but retained the ability to continue to use the technology to offer its SA Cash product line to colleges and universities that use the Diebold Transaction System. In addition, the agreement made Student Advantage the exclusive provider of membership and rewards programs to Blackboard's client base.
Now, with the Quentrix purchase, SA also has access to Diebold's CS Gold university clients.
"There are two components that Quentrix brought to the table," said Mr. Sozzi. "The first is a unique technology will serve as an enhancement to our existing SA Cash base allowing us to accelerate our growth. The second is that it gives our student users rewards where they can accumulate points, like frequent flyer miles. These are the two drivers that drove us to this merger."
"Like frequent flyer miles for students"
Quentrix' points-based rewards system is similar to frequent flyer miles. With every purchase, users earn points that can be redeemed for discounts, free merchandise and gift certificates from companies such as Blockbuster and The Sharper Image," said Mr. Hersch.
"This enables merchants to really target their marketing based on student criteria," added Mr. Sozzi. Students, through an online web interface tied to the card, can also view their point balance, see what merchants are offering, and also reload their card, he said.

Complimenting the SA Cash off-campus offering
The Quentrix technology provides a winning solution not only for the off-campus merchants, but for the university too. It allows all off-campus transactions to be communicated to the university through a single connection and central server, thereby minimizing the expense of additional hardware, phone lines and human resources.
Explains Mr. Hersch, "Quentrix allows all transactions to clear thru a central server-eliminating the need for multiple terminals at a merchant location. In addition, regardless of the number of merchants, the school has only to concern itself with one connection to us."
Mr. Sozzi added, "interoperability is important for major metropolitan areas. Take Washington, D.C. for example. If there is a pizza place in downtown Washington used by several universities, traditionally that pizza place has to have three different hardware configurations (one for each university). A lot of merchants would be resistant, but merchants are very interested in gaining access to these student dollars. SA Cash can go to the merchant and we can now direct which university will be dialed up (for the specific transaction depending on the user's card). It's much more efficient from a corporate perspective."
What's next?
"Combining the assets of Quentrix with Student Advantage's SA Cash is a natural fit," said Mr. Hersch. "Both companies share a passion for bringing sophisticated, flexible and secure stored-value transaction technology to higher education."
Mr. Hersch said the relatively new Diebold-specific Quentrix technology entered development in late 2002 "and we rolled out our first school in the fall of 2003. There's still enhancements that we're adding to it, particularly in conjunction with SA Cash."
"The goal over the next 60 days," said Mr. Sozzi, "is to focus on making sure the Quentrix technology properly interfaces with SA Cash. At the beginning of next year we hope to roll out several of our existing SA Cash schools. For the foreseeable future," he adds, "schools running under Quentrix will continue to run under Quentrix. It's possible there could be a re-branding by next July or August because SA Cash is such a well known brand and Quentrix is still in its early stages."
Since SA Cash "has been around a number of years, I think about it as the over arching system and Quentrix a very critical component–a technology component–of the SA Cash solution," explained Mr. Sozzi.
Founded in 1992, Student Advantage, works with colleges, universities, campus organizations and more than 15,000 business locations across the country, offering discount cards to students which enable students to make purchases less expensively. Student Advantage cards have also begun merging with a university's campus card. Five years ago, Student Advantage introduced SA Cash which allowed students or parents to put money on their ID card. "It's just a way for schools, instead of managing an off campus debit program, to outsource it to us," said Mr. Sozzi.