Wednesday, December 5, 2012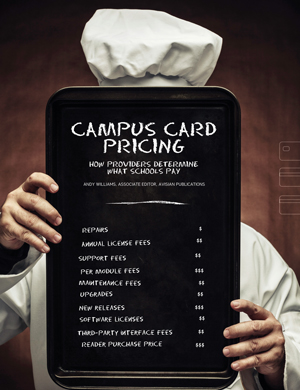 How providers determine what schools pay
From cloud-based services to software delivered on-site, colleges and universities have a myriad of options for handling their card programs.
Understanding the ways in which the different vendors determine their fees is essential to making informed buying decisions.
While the systems from campus card providers serve similar needs and offer similar services, the manner in which they charge for these services can be very different. It's not a one size fits all pricing structure for any of them. Most frequently pricing depends on size of student population and what functions the school opts to deploy.
There are 1277 words in the rest of this article …
Library Access Required
Library subscribers have access to the full archives of more than 10,000 original news items and feature articles published by AVISIAN's suite of ID technology publications (ContactlessNews.com, CR80News.com, DigitalIDNews.com, FIPS201.com, NFCNews.com, RFIDNews.org, SecureIDNews.com, and ThirdFactor.com).
For just $49, you receive unlimited password-protected access to content on all of AVISIAN's sites for an entire year. Your subscription helps fund the continued creation of independent, insightful content. Find out more.
Sign in as a Subscriber
If you are already a subscriber, you may sign in now. Enter your Email Address and Password and click Sign In.
If you have forgotten your password, enter just your Email Address, and click Send Password.