Wednesday, November 7, 2012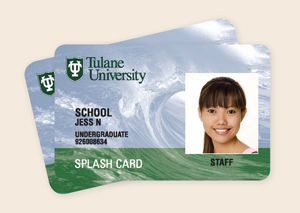 Access begins, more apps to follow
A little more than six-years ago, Doug Olson, Tulane's director of card services, found his office flooded under two feet of water. That led to some "belt tightening," says Olson, as the New Orleans school cancelled its 2005 fall semester so it could recover from a lady named Katrina.
Since then, the school and its 8,338 undergrads, of which 3,600 stay in dorms, have undergone some radical changes and the hurricane is nothing but a bad memory. Everything is back to normal, if anything can ever return to normalcy after a devastating storm. Even with the cancellation of one semester, Tulane didn't lose a lot of students. In fact, 87% returned for the spring semester.
There are 1012 words in the rest of this article …
Library Access Required
Library subscribers have access to the full archives of more than 10,000 original news items and feature articles published by AVISIAN's suite of ID technology publications (ContactlessNews.com, CR80News.com, DigitalIDNews.com, FIPS201.com, NFCNews.com, RFIDNews.org, SecureIDNews.com, and ThirdFactor.com).
For just $49, you receive unlimited password-protected access to content on all of AVISIAN's sites for an entire year. Your subscription helps fund the continued creation of independent, insightful content. Find out more.
Sign in as a Subscriber
If you are already a subscriber, you may sign in now. Enter your Email Address and Password and click Sign In.
If you have forgotten your password, enter just your Email Address, and click Send Password.