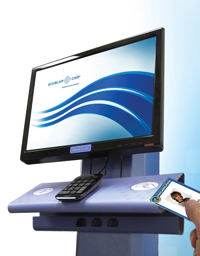 Student cards already serve attendance, access control
To use a transportation analogy, three separate tracks are coming together in Philadelphia to form a very interesting student ID and public transit solution.
On track number one, the Southeastern Pennsylvania Transit Authority is preparing to launch an open loop fare collection system that will enable commuters to pay for rides using a variety of different payment methodologies.
There are 899 words in the rest of this article …
Library Access Required
Library subscribers have access to the full archives of more than 10,000 original news items and feature articles published by AVISIAN's suite of ID technology publications (ContactlessNews.com, CR80News.com, DigitalIDNews.com, FIPS201.com, NFCNews.com, RFIDNews.org, SecureIDNews.com, and ThirdFactor.com).
For just $49, you receive unlimited password-protected access to content on all of AVISIAN's sites for an entire year. Your subscription helps fund the continued creation of independent, insightful content. Find out more.
Sign in as a Subscriber
If you are already a subscriber, you may sign in now. Enter your Email Address and Password and click Sign In.
If you have forgotten your password, enter just your Email Address, and click Send Password.