Wednesday, March 28, 2012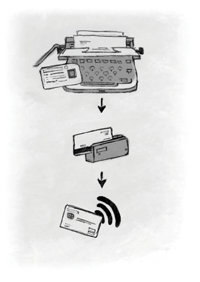 Quinnipiac University, a Hamden, Conn. school best known for its politically focused Polling Institute, recently upgraded the campus card used by its 5,800 students.
The Qcard had relied solely on magnetic stripe technology for 24-years before entering the contactless generation. While the contactless rollout has been successful, like any new campus system it has faced both obstacles and some vocal critics.
The Qcard has been around since 1987 when it started as a pure debit-like card, says John Meriano, section vice president for Administrative Services at the school. Before 1987, there were two documents students carried with them, a paper meal ticket and an ID card that didn't have a photo and had no connection to the meal plan.
There are 779 words in the rest of this article …
Library Access Required
Library subscribers have access to the full archives of more than 10,000 original news items and feature articles published by AVISIAN's suite of ID technology publications (ContactlessNews.com, CR80News.com, DigitalIDNews.com, FIPS201.com, NFCNews.com, RFIDNews.org, SecureIDNews.com, and ThirdFactor.com).
For just $49, you receive unlimited password-protected access to content on all of AVISIAN's sites for an entire year. Your subscription helps fund the continued creation of independent, insightful content. Find out more.
Sign in as a Subscriber
If you are already a subscriber, you may sign in now. Enter your Email Address and Password and click Sign In.
If you have forgotten your password, enter just your Email Address, and click Send Password.