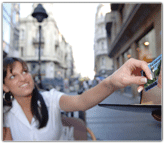 Programs flourish when multiple campuses share merchant network
Just a few short years ago, allowing a university's campus card to be used off campus was a no-no. Fears about losing precious on-campus income to merchants surrounding the campus prevented many universities from taking the step.
But as Jason Tiede, director of Blackboard's off-campus program, BbOne, says they now have become the norm. "It's unique if you don't have one. Besides, students want it. They want the expanded services, such as late night dining, weekend offerings, delivery and gas. It's not so much they want something that's physically away from campus, they want those services that a school otherwise couldn't provide on its own."
There are 844 words in the rest of this article …
Library Access Required
Library subscribers have access to the full archives of more than 10,000 original news items and feature articles published by AVISIAN's suite of ID technology publications (ContactlessNews.com, CR80News.com, DigitalIDNews.com, FIPS201.com, NFCNews.com, RFIDNews.org, SecureIDNews.com, and ThirdFactor.com).
For just $49, you receive unlimited password-protected access to content on all of AVISIAN's sites for an entire year. Your subscription helps fund the continued creation of independent, insightful content. Find out more.
Sign in as a Subscriber
If you are already a subscriber, you may sign in now. Enter your Email Address and Password and click Sign In.
If you have forgotten your password, enter just your Email Address, and click Send Password.