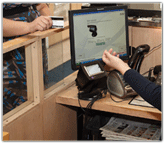 Systems catching on from Fortune 500s to Major League Baseball
Security checks have become a fact of life for entrance to public buildings. As government agencies, corporations and schools struggle to keep track of individuals within their facilities at any point in time, a new breed of visitor management systems has risen to the top.
Though it may be more apparent today, visitor management is not a new function. For as long as organizations have sought to control access to facilities, there has been a need to manage visitors, vendors and other non-recurring guests. In the past, paper-based logs were managed by lobby attendants to ensure visitors had a legitimate reason to enter. Today's electronic solutions automate these functions adding convenience and robust new security features to the process.
There are 1202 words in the rest of this article …
Library Access Required
Library subscribers have access to the full archives of more than 10,000 original news items and feature articles published by AVISIAN's suite of ID technology publications (ContactlessNews.com, CR80News.com, DigitalIDNews.com, FIPS201.com, NFCNews.com, RFIDNews.org, SecureIDNews.com, and ThirdFactor.com).
For just $49, you receive unlimited password-protected access to content on all of AVISIAN's sites for an entire year. Your subscription helps fund the continued creation of independent, insightful content. Find out more.
Sign in as a Subscriber
If you are already a subscriber, you may sign in now. Enter your Email Address and Password and click Sign In.
If you have forgotten your password, enter just your Email Address, and click Send Password.