Wednesday, March 23, 2011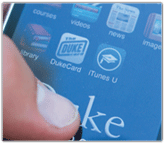 iPhone app, off-campus payments take DukeCard to the streets
Duke University students have been using mobile devices to check their DukeCard account balances for years, but a newly launched iPhone application simplifies access to the card program's site and makes it easier to perform a range of functions, says Matthew Drummond, director of the campus card office at Duke.
Previously, the DukeCard Office had a mobile-friendly version of its web site that could be viewed on smart phone browsers, but the functionality was limited.
There are 472 words in the rest of this article …
Library Access Required
Library subscribers have access to the full archives of more than 10,000 original news items and feature articles published by AVISIAN's suite of ID technology publications (ContactlessNews.com, CR80News.com, DigitalIDNews.com, FIPS201.com, NFCNews.com, RFIDNews.org, SecureIDNews.com, and ThirdFactor.com).
For just $49, you receive unlimited password-protected access to content on all of AVISIAN's sites for an entire year. Your subscription helps fund the continued creation of independent, insightful content. Find out more.
Sign in as a Subscriber
If you are already a subscriber, you may sign in now. Enter your Email Address and Password and click Sign In.
If you have forgotten your password, enter just your Email Address, and click Send Password.