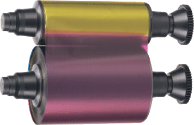 There was a time when all you needed for a print job was a black nylon ribbon and a dot matrix printer. With color came more options, and now with the ability to print directly to cards – no matter if it's smart, ID or debit – the choice of which print ribbon to use has become a little more confusing. Options now include dye sublimation and thermal transfer types as well as, simple monochrome ribbons.
---
There are 1477 words in the rest of this article …
Library Access Required
Library subscribers have access to the full archives of more than 10,000 original news items and feature articles published by AVISIAN's suite of ID technology publications (ContactlessNews.com, CR80News.com, DigitalIDNews.com, FIPS201.com, NFCNews.com, RFIDNews.org, SecureIDNews.com, and ThirdFactor.com).
For just $49, you receive unlimited password-protected access to content on all of AVISIAN's sites for an entire year. Your subscription helps fund the continued creation of independent, insightful content. Find out more.
Sign in as a Subscriber
If you are already a subscriber, you may sign in now. Enter your Email Address and Password and click Sign In.
If you have forgotten your password, enter just your Email Address, and click Send Password.