Thursday, December 20, 2007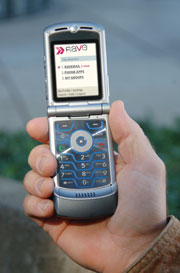 Colleges have other options for cell phone alerts, of course. They could go off campus and hire a company specializing in text messaging. That's what Rave Wireless and Mobile Campus are offering to universities.
Rave offers what its COO, Raju Rishi, calls "an alert solution, which basically gives the university the ability to get emergency broadcasting to the entire school or a subset of the school (like students who live on campus), whether it's about a gas leak or orientation. The university pays us for that capability yearly. We tie into Blackboard (campus card solution)," he added, "so we don't have to recreate the lists."
There are 694 words in the rest of this article …
Library Access Required
Library subscribers have access to the full archives of more than 10,000 original news items and feature articles published by AVISIAN's suite of ID technology publications (ContactlessNews.com, CR80News.com, DigitalIDNews.com, FIPS201.com, NFCNews.com, RFIDNews.org, SecureIDNews.com, and ThirdFactor.com).
For just $49, you receive unlimited password-protected access to content on all of AVISIAN's sites for an entire year. Your subscription helps fund the continued creation of independent, insightful content. Find out more.
Sign in as a Subscriber
If you are already a subscriber, you may sign in now. Enter your Email Address and Password and click Sign In.
If you have forgotten your password, enter just your Email Address, and click Send Password.