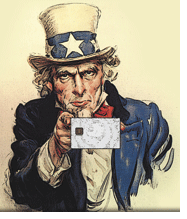 With every government agency in the U.S. issuing a standardized secure ID, will your campus card feel the pressure to follow their lead?
by Chris Corum, Executive Editor
Every federal government agency is currently issuing a standard ID card to their employees and contractors. Some of the brightest minds from security and IT in the U.S. government have been working on this project for the better part of a decade. Because of the massive scale and perceived national security implications, they had at their disposal input from some of industry's brightest minds. This work is already in process to be codified as an international standard by ISO, the Organization for International Standardization. If you think your campus card program will not be impacted by this effort, some would call you naïve … others would call you crazy.
There are 2317 words in the rest of this article …
Library Access Required
Library subscribers have access to the full archives of more than 10,000 original news items and feature articles published by AVISIAN's suite of ID technology publications (ContactlessNews.com, CR80News.com, DigitalIDNews.com, FIPS201.com, NFCNews.com, RFIDNews.org, SecureIDNews.com, and ThirdFactor.com).
For just $49, you receive unlimited password-protected access to content on all of AVISIAN's sites for an entire year. Your subscription helps fund the continued creation of independent, insightful content. Find out more.
Sign in as a Subscriber
If you are already a subscriber, you may sign in now. Enter your Email Address and Password and click Sign In.
If you have forgotten your password, enter just your Email Address, and click Send Password.